In this article we will discuss about the representative types of chondrichthyes with the help of a suitable diagram.
Sharks and Rays:
1. Heptanchus:
Heptanchus is regarded as the most primitive shark. It is long bodied and slow moving. There are seven pairs of gill-clefts. Hexanchus, another primitive shark, has six pairs of gill-slits. Mouth is sub-terminal and there is a single soft dorsal fin. There is a long heterocercal tail. Vertebral column is entirely cartilaginous and does not constrict the notochord.
Jaw suspension is amphistylic, and the upper jaw articulates with a postorbital process of the cranium. The pectoral girdle has a median ventral element as an indication of a sternum. It is viviparous but there is no placenta. It is found in the warm parts of the Atlantic and the Mediterranean.
2. Scyliorhinus (= Scyllium):
Scyllium is a marine true dogfish. Its body is elongated, laterally compressed and of moderate size. The body is distinguished into head, trunk and tail. Eyes without nictitating membrane. Mouth and nasal openings are ventral spiracles and present behind the eyes. Teeth are small provided with median cusps. Two dorsal fins, small and without spines.
The first lies above or behind the pelvic fins and the second behind the anal fin. Tail bent slightly upward. Fertilisation is internal. Oviparous; egg cases are large and quadrate with long tendrils for attachment. Sexes are separate, male possesses claspers. Scyllium is widely distributed in temperate and tropical seas. S. canicula and S. catulus are common on British coasts.
3. Sphyrna (= Zygaena) or Raniceps:
Sphyrna (Fig. 16.1) is a marine shark, commonly called hammer-headed shark. Body is elongated, measuring about 4.0-5.0 metres in length. The head is flattened in front and expanded sideways into two conspicuous lateral lobes, hence, resembling a hammer. The eyes lie at the tips of lateral lobes. Eyes with 3 eyelids and nictitating membrane. Mouth is crescentic and ventral in position. Nostrils lie ventrally at the base of lateral lobes.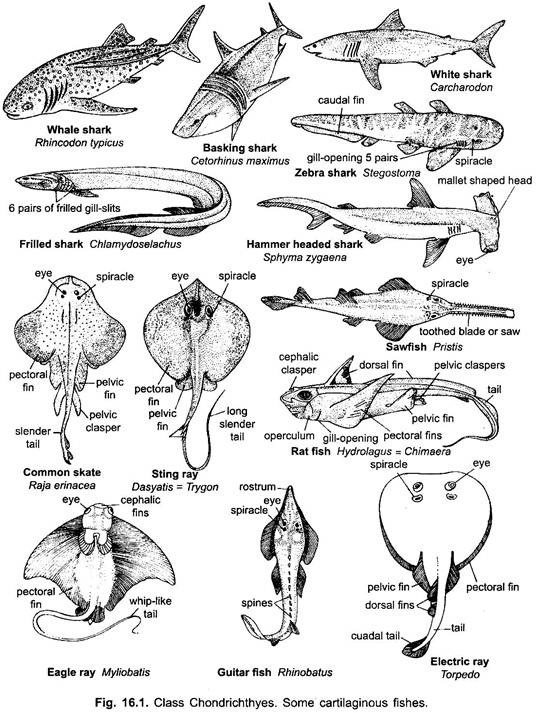 Five pairs of lateral gill-slits are present which are uncovered. Two dorsal fins are present. The first dorsal fin is situated in front the pelvic fin and the second opposite the anal fin. Spiracles are absent. Vertebrae are asterospondylus. Viviparous. It is ferocious and attacks on its prey with its head. These sharks are usually adapted for living in deep waters. Sphyrna is distributed in tropical and subtropical seas. It is abundant in Indian Ocean.
4. Pristis:
Pristis (Fig. 16.1) is commonly known as saw fish. Body is elongated, depressed and shark-like. It may attain the considerable length of 3-6 metres or even longer. Head and skull prolonged into a long flattened saw-like rostrum, the lateral margins of which are provided with a series of strong tooth-like denticles giving it the appearance of a saw. No rostral tentacles. Teeth in jaws are minute and obtuse. Spiracles are present behind the eyes. Dorsal fins are large, the first dorsal is opposite to the pelvic fin.
Tail is well developed and terminating in heterocercal caudal fin. Predaceous. Food chiefly comprises small fishes and fresh of whales and other marine animals. They are viviparous. Their rostrum is formed while the young is in the mother's uterus. The fish is invaluable for liver oil of high vitamin value and skin for scale boards. Pristis is found in Mediterranean and Atlantic Oceans particularly in America, West Indies, China and Gulf of Mexico. There are two species in India, Pristis cuspidatus and P. microdon.
Skates and Rays:
The skates (rays) are more diverse than the sharks and comprise about 400 living species. The guitar-fishes have the body dorso-ventrally flattened and it is an adaptation to a bottom-dwelling existence.
They are supposed to be confined to shallow waters, some inhabit great depths and are blind. Skates are also of grotesque shapes. Some rays attain great bulk. Stingray (Bathytoshia) of Pacific reaches a length of 6.0 metres, a width of about 2.0 to 3.0 metres and a weight of about 385 kg.
Devil rays may grow even bigger and are wider than the body length. Manta reaches a width of about 6.0 metres across its diamond-shaped body and wings (pectoral fins). In the rays the pectoral fins are extremely large and much bigger than the pelvic fins.
The pectoral fins fringe the greater part of the length of the flattened body, and are prolonged on either side and even in front of head. Spiracles are present on the dorsal surface behind eyes. In bottom-living rays, the oxygenated water is taken in through the spiracles.
The water is driven across the gills surface by the closure of a special valve. Along each side on the ventral surface in rays, there is a row of 5 gills or branchial-slits or clefts. The cloacal opening lies just in front of root of tail. A pair of small abdominal pores is placed close to which lead to abdominal cavity.
1. Raja or Raia:
Raja (Fig. 16.1) or Raja is commonly known as skate. Body is dorso- ventrally depressed. Large pectoral fins extend along the lateral margins of the trunk and head from the pelvic fins to the snout, and are confluent there, forming the lateral portions of a large rhombic disc. The mouth is on the ventral side and provided with numerous sharp, rasping teeth with which they tear up their prey. Spiracles are present behind the eyes. Tail is slender and sharply marked off from the trunk. Two small dorsal fins are present on the tail. Caudal fin is very small.
Caudal electric organs (modified caudal muscles) are present on each side of the terminal portion of the tail. Larger or smaller spines are generally present on the skin. Sexual dimorphism is well marked. Male is provided with a pair of claspers present near the pelvic fin. Carnivorous, food chiefly comprises crustaceans and fishes. They catch their prey by dropping down over them and covering them with the broad body and fins. Sluggish bottom dwellers. Oviparous, egg cases four homed without tendrils. Raja or Raia is found in temperate seas but is more abundant in northern hemisphere.
2. Torpedo:
Torpedo or Astrape (Fig. 16.1) is commonly called electric ray. Body is flattened dorsoventrally and the anterior part is expanded laterally. There are no scales. Pectoral fins are large and extend in front so as to be continuous with the head, and the front end is rounded. It swims by flapping its broad pectoral fins up and down. Eyes and spiracles are dorsal, mouth, gill-clefts, and nostrils are ventral.
In respiration water is drawn in through spiracles. Tail is fairly thick and bears two dorsal fins and a caudal fin. Torpedo has vesicles of Savi in the ventral epidermis, and it has a pair of electric organs formed from metamorphosed muscles, they lie between the head and pectoral fins and run through the entire thickness of the body. They receive nerves from an electric lobe of the medulla. They give a powerful electric shock of about 100 volts. Torpedo is found in Mediterranean, Red Sea, Atlantic and Pacific Oceans. T. marmorata is found in Indian Ocean.
3. Chimaera:
Chimaera (Fig. 16.1) is commonly known as rat fish or king of herrings. They belong to the genus Hydrolagus (= Chimaera) having 25 very poorly known species. It is about 60 cm long with a skeleton of cartilage and a large compressed head and a blunt snout with a small mouth having lips. Mouth has crushing plates, two pairs in the upper jaw and one pair in the lower, they have no enamel but vitrodentine and reduced pulp cavities.
There is a single nasal aperture, only four pairs of gills, they are covered by cartilaginous operculum on each side opening by a single branchial aperture. Eyes are very large and diencephalon is long and thin. There is no spiracle; the intestine has a spiral valve. The skin is naked with placoid scales restricted to certain parts only.
Pectoral fins are very large, the first dorsal fin has an anterior cartilaginous spine, the second dorsal fin is elongated, the ventral fin is very small, the tail is produced into a long whip-like filament with a narrow caudal fin. The lateral line is an open groove. Endoskeleton is cartilaginous. Vertebrae are reduced to separate nodules and the notochord is unconstricted. Intestine has a spiral valve.
In the male there are five claspers covered with placoid scales, one normal, pelvic pair, a second pair, in front of the pelvic fins in pockets of the skin, they also project backwards, and an unpaired frontal or cephalic clasper or spine on the head between the eyes. It is not known how these claspers are used. Chimaera occurs off the coasts of Europe from Norway to Portugal including the Mediterranean and also in the neighbourhood of Azores, Cape of Good Hope and coasts of Japan.