In this article we will discuss about the structure of aurelia, explained with the help of a suitable diagram.
a. The body consists of a gelatinous disc with a slightly convex ex-umbrella (Fig. 20.17) and bears a four-cornered mouth on a short manubrium guarded by four oral arms at the centre of the sub-umbrella.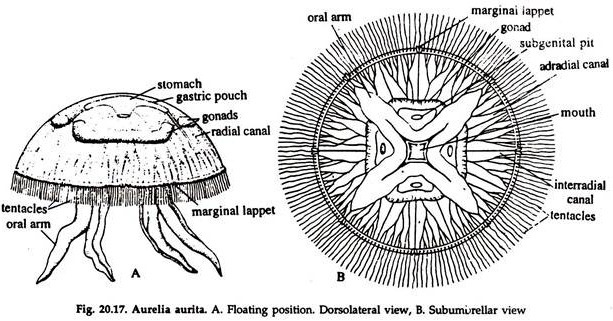 b. The margin bears a large number of tentacles and is smooth except eight notches, each with a pair of marginal lappets.
Along the edge, the umbrella portion is very thin and flexible, which together with its marginal notches and tentacles, form the velarium.
c. Four small depressions, the subgential pits, par radial in position, are present be­tween the manubrium and the bell margin on the subumbrellar surface.
d. The mouth leads into a spacious central stomach, which gives out four pouches known as gastric pouch. Each pouch moves a little distance and then gives off numerous fine canals, which rim outward and, ultimately, unite to form a circular canal lodged within the edge of the umbrella.
e. Gonads are four in number, and are visible through the transparent umbrella as coloured horseshoe-shaped patches. They are frill-like structures lying on the floor of the gastric pouch, with the concavity facing in­wards.
f. The main bulk of the umbrella is mesogloeal in structure but it contains nu­merous amoeboid cells, which come from the ectoderm. It has also some branching fibres. The outer (ex-) and the inner (sub-) surfaces of the umbrella are covered with ectoderm. The stomach and the canal system are lined with endodermal cells and are ciliated throughout.