In this article we will discuss about the circulatory system in invertebrates with the help of suitable diagrams.
The structures are somewhat different in different groups of invertebrates. A circula­tory system with distinct vessels is first met with in annelids. The skin, serves as the res­piratory structure and as a result the circula­tory system is simplified.
A con­tractile dorsal vessel, provided with valves at regular intervals to prevent backflow of blood, acts as a collecting vessel and runs forward from the posterior end. At a short distance from the anterior end, it sends major portion of the blood to a ventral vessel through a number of pulsating lateral vessels, the late­ral hearts.
Anterior to this the dorsal vessel acts as a distributing vessel. The ventral ves­sel is a distributing vessel and sends blood from anterior to posterior region, supplying blood to different organs through narrow branches. In annelids, the blood flows through distinct vessels but they have not been des­ignated as arteries and veins, since they lack an endothelial lining.
In arthropods (Fig. 11.1) and molluscs (Fig. 11.2) the arrangement has undergone much change due to interposition of respiratory structures in the course of circulation. The heart is enclosed in a pericardium.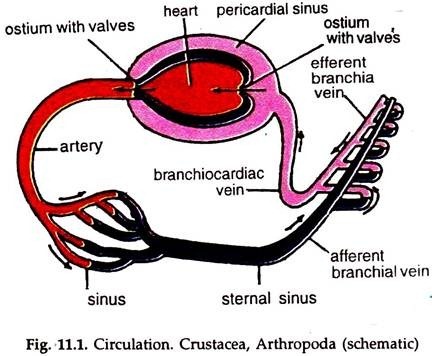 The peri­cardial chamber, named pericardial sinus contains haemolymph. The sinus is haemocoelomic in arthropods and coelomic in ori­gin in molluscs. The heart consists of one atrium (auricle) and one ventricle, lying in the same long axis. In some molluscs, the artria are two in number.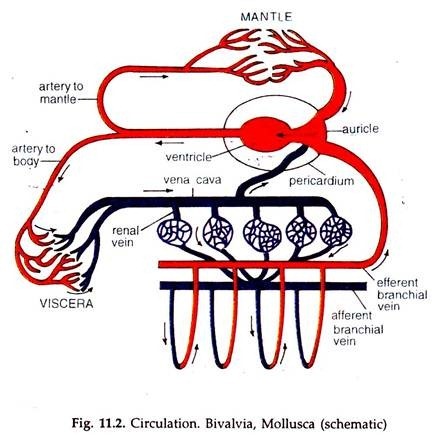 Oxygenated blood is moved through the arteries, the final branches of which communicate with the sinuses in the tissues. The sinuses join to form a large sinus, which receives the deoxygen­ated blood from the tissues. From there it is sent to the respiratory organs and the oxy­genated blood is returned to the heart, through another set of channels.
The sinuses, through which the blood flows are not provided with a distinct wall. They are lined only with a thin layer of connective tissue and are not consid­ered as true vessels. This type of circulation is known as open circulation.