In this article we will discuss about the meaning and types of mountage used to help silkworm for spinning.
Meaning of Mountage:
The most important device that helps or supports the silkworms (larvae) for comfortable spinning their cocoon is called cocoonage or mountage. It deter­mines both the quality and quantity of the cocoons. Different types of cocoonages are used in different parts of India. In general, these are made of wood, bamboo, cardbaord, plastic, grass, dry leaves, twigs, etc.
However, ideal mountage should fulfill the following requirements:
(i) Convenient space with suitable dimension for spinning proper-sized cocoon.
(ii) Should not allow formation of double or mal­formed or flimsy cocoons.
(iii) Should have provisions for cleaning the excreta of spinning larvae.
(iv) Should be suitable for easy harvesting of cocoons.
(v) Should be cheap, durable and easy to handle.
Types of Mountage:
In India following types of mountages are used:
(1) Chandrika:
This round- or rectangular- shaped mountage is made of bamboo mat supported by split bamboo reapers on all sides (Fig. 3.7). On the mat, a bamboo tape of 4-5 cm width is wound in a spiral manner. About 1000 worms can be mounted on this mountage. These are easy to handle, repa­irable and cocoons spinned on Chandrika are of good quality.
However, bamboo being a protected plant, nowadays Chandrika is rare and costly. It is prone to damage by rodents and requires a lot of area when not in use. Besides, occurrence of stained cocoons is more in chandrika. Chandrika is popular in South India and West Bengal.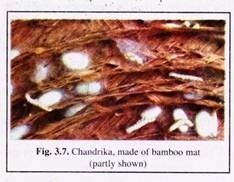 (2) Screen-type Mountage:
It is made of bamboo or wooden or plastic reapers on which, instead of spiral bamboo tape, longitudinal strips with trian­gular peaks are placed. The screen can be folded and stored.
This mountage can be kept clean and well- ventilated and hence, cocoons spun on this mountage are of good quality. It is more durable than chandrika. But occurrences of double cocoons are frequent in it.
(3) Plastic Mountage:
Like Chandrika, but is made from plastic instead of bamboo and hence, more durable, easy to clean, not prone to rodent attack, and produce lesser number of double cocoons. Once invested, further maintenance, care or expenditure are not incurred.
But these mountages are costly than Chandrika. The cocoons produced on these mountages are more flimsy and not of uniform size and hence not frequently used by farmers.
(4) Japanese low Cost Mountage:
In this modi­fied Japanese mountage, a wooden frame of 4 longi­tudinal rods is attached by means of cross-spokes at two ends to a central axis. Each rod has a number of pegs placed at equal distances. These pegs are conne­cted by long threads of twisted rice straw in a regular pattern like that of charpoy.
The size of frame and the number of pegs can be modified according to the requirement of the rearer. This mountage is cheap, more durable and make less chances of disease spread.
(5) Bamboo Strip Mountage:
Made of bamboo stirps that are either nailed on wooden reaper or placed in grooves of wooden reapers. Several such frames are placed one above the other with the lower one keeping on four uniform bricks or wooden blocks. This mountages are cheap, durable, easy to handle, and harvest the cocoons.
(6) Bottle Brush Mountage:
This recently intro­duced mountage consists of a thick coconut or jute fibre rope into which 6-9″ sticks (midrib of coconut leaves) are inserted very closely.
These are used by the worms as support. The worms spin their cocoons in the space between the sticks. This mountage is very cheap; can be made easily and occupies little space compared to Chandrika.
(7) Plastic Bottle Brush:
This modified bottle brush was innovated by researchers of Central Sericulture Research and Training Institute (CSR and TI), Mysore with assistance from JICA. Here, each plastic rope has 8 branches of 1.5 cm length with 2 sub-branches of 9 cm length.
The branches are equally distributed at a distance of 1 cm at the base and 4 cm at the ends of the branch in a circular fashion (Fig. 3.8). The circle formed by branches and sub-branches is 24 cm in diameter. Their surfaces are granulated (rough) in order to provide grip to the worms during spinning to minimise floss loss.
Fifty such individual pieces are jointed together with an iron rod and at the end of that rod, a steel stopper is fixed tightly, so as to keep the whole mountage in a correct position. This mountage is durable and can be reused after disinfection. It allows easy harvesting and also self mounting in shoot rearing method as well.
Many other mountages popular in some other countries are now being introduced in Indian sericulture. For example, folded straw mountage, straw rope mountage, rotary mountage (Fig. 3.9) from Japan, and folded bamboo strip mountage from China, etc.