The following points highlight the seven main steps involved in rearing process of silkworm. The steps are: 1. Disinfection 2. Brushing 3. Feeding the Larvae 4. Spacing 5. Bed Cleaning 6. Caring during Moulting 7. Mounting.
Rearing Process of Silkworm: Step # 1.
Disinfection:
It is the most important opera­tion that to be carried out prior to the commencement of rearing. Disinfection of everything including rear­ing places is carried out by physical, chemical or radiation methods.
(i) Physical methods:
These are cheap, con­venient and easy to operate, e.g.
(a) Sunlight:
Dry­ing of rearing appliances in sunlight can cause disinfection. However, sun drying cannot be carried out during winter and rainy seasons, and some appliances are likely to be damaged by exposure to sunlight,
(b) Steam:
Disinfection by steaming may be used for rearing room and some appliances (not made of bamboo or wood). However, initial cost for installing the steaming apparatus like boiler and pipeline is high.
(c) Hot air:
It is also a good sterilising method but cannot be used in routine sericulture because of its production cost.
(ii) Chemical method:
The most commonly used disinfection method in sericulture is chemical method. Chemicals generally used are non-toxic to man and animals, have broad spectrum activity, stable and readily mixable with water and fair in cost.
Most frequently used chemicals include chlorine as chloramine, iodine as iodophores, phenol as cresol and hexachlorophene, formaldehyde as formalin (2%), bleaching powder, etc. These are used as spray or fumigant. Precautions should be taken during and after the applications of such chemicals.
Rearing Process of Silkworm: Step # 2.
Brushing:
Brushing is the separation of newly hatched larvae from their egg shells and transferring them to rearing trays from the egg cards. The newly hatched larvae are black, bristly and called ants.
Brushing is usually starts at 10 am when peak hatch­ing occurs. Brushing can be done by various ways:
(a) Brushing from loose eggs:
Fine meshed net or thin muslin cloth can be placed over the newly hatched larvae. Then freshly chopped mulberry leaves are sprinkled over that net / cloth. The larvae start to crawl up through the holes onto the leaves. After sometimes, the larvae along with leaves are gently tapped on the rearing bed.
(b) Brushing from egg cards:
From egg cards, newly hatched larvae can be transferred by the following:
(i) Feather:
Here the egg card is held vertically above freshly prepared rearing bed and then by gentle strokes of a feather, the larvae are pulled out from the card on the rearing bed. How­ever, this method is little bit crude and may cause some injury to the larvae.
(ii) Husk:
Here powdered husk is sprinkled over newly hatched larvae on the egg card. Then freshly cut mulberry leaves are sprinkled over the centre of husk. The larvae crawl up the husk to reach the leaves. After sometimes, the larvae are brushed from husk by means of a feather on the rearing bed.
However, in all cases of brushing, care should be taken not to touch the newly hatched larvae with hands.
Rearing Process of Silkworm: Step # 3.
Feeding the Larvae:
Both the quality and size of the cocoons depend mainly on the quality of mulberry leaves fed by larvae during rearing. After a little practice, the amount of leaves that to be given per feeding to fulfill the appetite of the worms, is adjusted. The amount of food given also depends on races and voltinism of the moths.
However, maxi­mum amount should be given during the active feed­ing stage of instar and no food should be given dur­ing moulting. In Indian sericulture, nowadays four feedings per day is allowed. In case of shoot and floor rearings, three feedings per day are sufficient.
In all larvae, several feeding stages can be noticed during their development, viz., active feeding stage when larvae feed maximum during the instar, sparsely feeding stage when they eat less, usually at premoulting stage when larvae empty their gut; non-feeding stage when the larvae do not take any food usually during moulting.
Of the total ingestion during entire larval development, nearly 85% of food is taken during IVth and Vth instar stages. Leaf requi­rement during different instar stages are given in Table 3.2.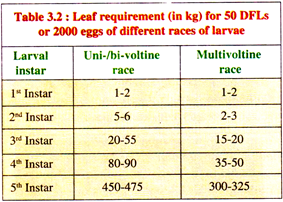 During feeding, generally a gap of 2 hours is given before and after each moulting. Young worms are always fed with tender leaves while late stages are given mature mulberry leaves (Fig. 3.44). To enable the larvae to feed easily, young worms have to be given chopped leaves but for mature worms, full leaves or young branches or shoots may be given.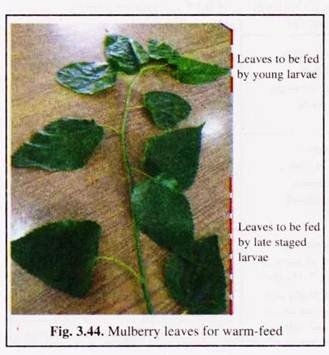 Rearing Process of Silkworm: Step # 4.
Spacing:
The silkworms grow very rapidly from age to age and increase many times their weight and size from the previous instar. The total increase in weight from hatching to the end of Vth instar is about 7,000 to 10,000 times.
Crowded situation in rearing trays results in increased humidity, heat, fermentation of litter, all of which will in turn cause under development of larvae, wastage of feeding leaf and unhygienic condition. To provide more and adequate space for the growing worm, the rearing space has to be extended at each stage and this is called spacing.
Spacing is usually done along with bed cleaning and is given once a day. The number of trays and space required for each instar are given below in Table 3.3.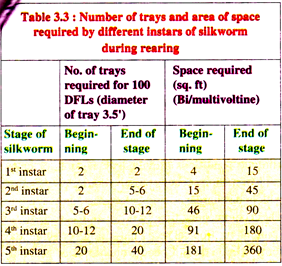 Rearing Process of Silkworm: Step # 5.
Bed Cleaning:
The rearing tray of silkworms accumulates some unconsumed leaves after each feeding, exuviae after moulting, excreta, dead or diseased larvae, etc. All these if not cleaned, combine to form a thick and damp litter which promotes the growth of different micro-organisms, generation of heat and injurious gases and depletion of oxygen.
Hence, it is very necessary to remove the litter perio­dically and the process of its removal is called bed cleaning.
Bed cleaning can be done by using paddy husk, straw and bed cleaning net (Fig. 3.10a). During 1st instar, bed cleaning should be done once during per moulting, during 2nd instar twice, once after moult and before next moult.
During 3rd instar thrice, i.e. after moult, before next moult and once in the middle. During 4th and 5th instars once in a day in case of shelf rearing. However, in case of floor or shoot rearing, bed cleaning should be done once in each instar.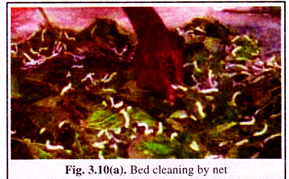 Rearing Process of Silkworm: Step # 6.
Caring during Moulting:
In commercial races of silkworm, moulting occurs four times, lasting for 15-30 hours. During this time, the worm does not take any food, wriggles out of the old skin and comes out with a new, soft skin.
Care taken during moulting includes stopping and resuming feeding at appropriate time to ensure uniform growth, keeping the bed dry and disinfected either by dusitng Resham Keed Oushad (RKO), formulated by CSR and TI, Mysore or by spraying Labex, formulated by Berhampur.
Besides disinfecting action, RKO can reduce grasserie in different seasons and can increase growth rate of larvae leading to improved cocoon quality. Labex has anti muscardine effect and can inhibit early moulters from resuming feeding leading to uniform growth.
Rearing Process of Silkworm: Step # 7.
Mounting:
Mounting is the process of transferring the ripe worms to the mountages. On the mountage, the ripe worms exude silk, spin the cocoon around itself and transformed into the pupa inside it. The pupa after metamorphosing into adult moth comes out by piercing open the cocoon.
The aim of sericulture is to rear the silkworm providing them optimum conditions and mountages so that they can spin good cocoon with high and best silk content.
Mounting is done by following methods:
(i) Hand picking:
Ripe worms are collected in a tray one by one by hand and then transferred to the mountages. Though some worms may be injured while picking and handling, but by this method, only ripe worms can be picked and distributed more uniformly in the mountages (Fig. 3.10b).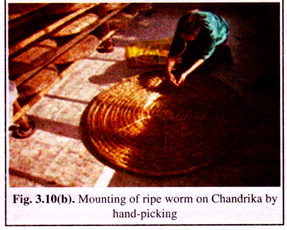 (ii) Simultaneous mounting:
In this method, a number of mature larvae is collected simultaneously and transferred to the mountage. Here, mature, immature and over-mature worms are mounted together; hence, cocoon formed by them may not be uniform.
(iii) Net method:
In the rearing tray, when worms are ripen, straw rope nets / rush nets or cleaning nets are spread over the rearing beds and left for some time. Ripe worms crawl alone on the nets while unripe worms continue feeding. The nets with ripe worms are then shaken on the mountages to transfer them without touching by hand.
(iv) Branch method:
Here small branches of mulberry are spread over the rearing bed. Ripe worms craw ling over them are then shaken off on the mountages. Besides branch, dried weeds (Russia) or cut straw (Japan) can also be used for transferring the ripe worms to mountages.
Number of ripe worms per mountage is very important. In general, one ripe worm requires an area that is the square of its body length for spinning its cocoon.
Too wide spacing may cause wastage of silk for spinning the preliminary web. Again, too close spacing may result in formation of double cocoon (which are not reelable), staining of cocoons with excreta of the worms and also formation of damp cocoons. The optimum density for Chandrika is 50 worms per 0.1 m2.
Precautions to be taken during mounting:
(i) Only ripe worms should be mounted. Unripe worms spoil other cocoons with their excreta while overripe worms hastily spin cocoons which are malformed, flattened, sticky and inferior.
(ii) An optimum temperature (24°C) should be maintained in spinning place. Too low temperature causes delayed formation of cocoons, and affects colour, lustre and texture of the silk. Too high temperature results in the formation of deformed cocoons with thick filament.
(iii) The ideal humidity for spinning is 60-70%. Ventilation is needed to dry the wet silk into firm cocoon and to evaporate the water or excreta released by the worms during spinning.
(iv) The mountages should be disinfected before and after use.
The spinning worms should not be disturbed which otherwise would result suspension of spinning and breaking of thread.